From monocausality to systems thinking: a complementary and alternative conceptual approach for better understanding the development and prevention of sports injury
Injury Epidemiology
2015
2:31
Received: 7 September 2015
Accepted: 3 December 2015
Published: 8 December 2015
Abstract
The science of sports injury control, including both its cause and prevention, has largely been informed by a biomedical and mechanistic model of health. Traditional scientific practice in sports injury research has routinely involved collapsing the broader socioecological landscape down in order to analyse individual-level determinants of injury - whether biomechanical and/or behavioural. This approach has made key gains for sports injury prevention research and should be further encouraged and allowed to evolve naturally. However, the public health, Applied Human Factors and Ergonomics, and injury epidemiological literature more broadly, has accepted the value of a socioecological paradigm for better understanding disease and injury processes, and sports injury research will fall further behind unless it does the same. A complementary and alternative conceptual approach towards injury control known as systems thinking that builds on socioecological science, both methodologically and analytically, is readily available and fast developing in other research areas. This review outlines the historical progression of causal concepts in the field of epidemiology over the course of the modern scientific era. From here, causal concepts in injury epidemiology, and models of aetiology as found in the context of sports injury research are presented. The paper finishes by proposing a new research agenda that considers the potential for a systems thinking approach to further enhance sports injury aetiological understanding. A complementary systems paradigm, however, will require that sports injury epidemiologists bring their knowledge and skillsets forwards in an attempt to use, adapt, and even refine existing systems-based approaches. Alongside the natural development of conventional scientific methodologies and analyses in sports injury research, progressing forwards to a systems paradigm is now required.
Keywords
Sports injury epidemiologySocioecological frameworksSystems thinkingAgent-Based ModellingApplied Human Factors and Ergonomics
Review
There is an Arabian proverb of which most are familiar. It speaks of a camel whose owner had overloaded it beyond what was a manageable weight; so much so, that it took only but a single piece of additional straw to bring the animal to its knees. The idiom, 'the straw that broke the camel's back', now extends to scenarios where a certain number of precipitating factors combine to produce an undesirable outcome. In most instances, however, it is only the final event that is most noticeable to the person involved, and is routinely considered as the 'unique cause' of the effect in question (Rothman and Greenland 2005). The tendency for human beings to process events in this way, to otherwise implicate monocausality into their daily thinking, is simply a matter of habituation. Conversely, when deliberating over causality on a deeper level, or when attempting to formulate new scientific theories, one has to advance rudimentary conceptions of causality to that of complexity and multifactorialism (Rothman and Greenland 2005).
In the broader field of epidemiology, the science of causality, including ways in which to illustrate it, has been discussed at length (e.g. Greenland et al. 1999; Parascandola and Weed 2001; Broadbent 2013). Indeed, epidemiologists are not only motivated by the task of distinguishing simple correlation from actual causation, but also by the underlying and often times elusive and complex nature underpinning causal relationships (Glass et al. 2013). In other words, epidemiologists strive to identify both the risk factors for, and the causal mechanisms behind, the health effect in question. Closer to home, in the sports injury literature, there have been a number of examples that discuss or illustrate causality from a general prevention perspective (Meeuwisse 1994a, b; Gissane et al. 2001; Bahr and Holme 2003; Bahr and Krosshaug 2005; McIntosh 2005). Notwithstanding these examples, causal theory in sports injury epidemiology has entered into a period of inertia despite the availability of alternative conceptual causal approaches. Sports injury prevention research will not be able to make significant gains unless a number of important issues pertaining to causality are addressed.
The first section of this narrative review discusses the historical progression of causal concepts in the field of epidemiology more generally. This section, albeit summarised to include only a few noteworthy contributions, provides insight into why and how casual theory has evolved over time. From here, causal concepts in the broader field of injury epidemiology, and models of aetiology as found in the context of sports injury research are presented. The paper finishes with an overview of how a systems thinking approach has the potential to further enhance sports injury aetiological understanding.
The roots of causal concepts in the modern scientific era
In 1880, at the Tenth International Congress of Medicine in Berlin, the German physician Robert Koch made a significant contribution to the field of microbiology and disease causality. Reflecting upon his research into the origin of Tuberculosis, Koch outlined three illustrious causal postulates (Rivers 1937): (i) that the parasite occurs in every case of the disease in question; (ii) that it occurs in no other disease as a fortuitous and non-pathogenic parasite, and; (iii) that after being fully isolated from the body and repeatedly grown in pure culture, it can cause the disease again. At the time, Koch's postulates were designed to definitively establish whether a causal relationship existed between a single infectious agent and particular disease. Ironically, however, it was the limitations associated with these postulates that contributed to advancing aetiological understanding in this area (Fredricks and Relman 1996). Certainly, for some pathogenic bacterial species, the postulates were highly applicable. Yet, for other organisms, a clear violation of one or more of the postulates was found (Fredricks and Relman 1996).
The discovery of viruses in the early Twentieth century prompted a revision to Koch's postulates. Rivers (1937) recognised that the monocausal exposure-disease framework was flawed, and warned of its continued application. Twenty years later, Huebner's (1957) refinements to causal theory included, for the first time, the importance of epidemiological approaches alongside mere laboratory-based research. With the passing of yet another decade, the Five Realities of acute respiratory disease were formulated and supported the now accepted multicausal paradigm through recognising the importance of the individual's biological constitution, and the influence of seasonal variation on the pathogenicity of certain agents (Evans 1967).
The further discovery of hundreds of new viruses transformed disease causality into a complex concept that included demographical, geographical and social layers. Accordingly, the historical progression of the science of infectious disease causality has been condensed into three distinct stages (Evans 1976): (i) the nature of the agent as a key focus (e.g. Koch's postulates and monocausality); (ii) consideration to the environment in which the disease occurred (e.g. refinements from Huebner and Rivers) (Huebner 1957; Rivers 1937); and (iii), recognition of how the characteristics of the host influences the pathophysiology of disease (e.g. Evan's Five Realities) (Evans 1967).
The evolution of causal thinking in epidemiology
Over the course of the mid-late 1900s, the provision of healthcare services, improved community sanitation and hygiene, and scientific discoveries including the development of vaccinations contributed to a declining incidence of infectious diseases (Baum 2011). Paradoxically, technological advancements and obesogenic environments gave rise to a range of new health issues. The epidemiological teaching resources that emerged around the 1950s embraced a new research agenda, and alongside infectious disease, were now concerned with the development and prevention of non-communicable chronic health conditions (Krieger 1994). The single agent germ theory was completely displaced by models of disease aetiology that directly assimilated, or took advantage of, the underpinning principles associated with the Agent, Host, and Environment triad. Standout examples include the Web of Causation (MacMahon et al. 1960), Hill's (1965) nine considerations for inferring causation, and Rothman's (1976; 2005) Theoretical Sufficient-Component Cause Model; which, was based on earlier work by distinguished philosophers of science (Mackie 1965; Lyon 1967).
Causal concepts in injury epidemiology
Whether it be improvised footwear to protect against the elements, or engineered clothing and equipment worn during warfare, injury prevention interventions have continued to evolve since the earliest known records (Rivara 2001). Aside from a number of early lessons, it took until the mid-late Twentieth century before the true application of epidemiological techniques for better understanding injury control were applied (Rivara 2001). If it were not for the causal concepts that has previously been established in the infectious and chronic disease literature, injury epidemiology might have set out on an altogether different trajectory (Robertson 2007). Notable early concepts that were applied to injury control included the Domino Theory of Accident Causation (Heinrich 1931), De Dehaven's (1942) biomechanical theories of energy exchange and force distribution, and the self-involved experiments of Stapp (1957). A number of influential visionaries prophetically elaborated on these robust theoretical foundations, and so injury control was established as a legitimate scientific discipline.
In his paper
'The Epidemiology of Accidents'
, Gordon (
1949
) illustrated a similar pattern of mortality between an outbreak of typhoid fever amongst a troupe of circus performers and that of a nightclub fire. The analogy of these two distinct scenarios, aside from the literal graphical representation of the sharp and initial aggregation of cases, was reflected in his commentary (Gordon
1949
; p.515):
"Specifically directed prevention based on an understanding of cause has long guided the attack on communicable and other diseases…the biologic principles that govern disease as a community problem are interpreted as holding equally well for injuries. A pattern for epidemiologic analysis is presented [Agent, Host, and Environment], as a means for a better understanding of accidents".
Gordon (1949) believed that, like disease, injuries were caused by particular epidemiologic episodes, such as seasonal change, demographic characteristics and an individual's susceptibility. Just over a decade later, an experimental psychologist proposed that injuries were caused by the transfer of energy (Gibson 1961). The theory of energy exposures exceeding an organism's physiological injury threshold remains foundational to the science of injury control.
A breakthrough in injury research arrived with the release of 'Accident Research: Methods and Approaches' (Haddon et al. 1964). Haddon et al. (1964) had produced the ultimate anthological resource which established injury research as an important scientific discipline (Li and Baker 2014). The theories and methods presented in their definitive text were the catalyst for many more important publications that followed, including numerous reports by the US-based National Research Council and the National Highway Traffic Safety Administration (Rivara 2001). Like Gordon (1949) before him, one of the greatest contributions to injury research by Haddon (1970, 1980) was his recognition of the Agent, Host and Environment triad. Haddon's (1970, 1980) efforts to coordinate three distinct injury prevention phases (i.e. pre-event, event, post-event) with the Epidemiological Triad resulted in the now famous Haddon Matrix for injury prevention interventions. The Haddon Matrix is widely used to conceptualise the candidate risk factors, temporality, and the mechanisms of injury, and has been applied in a number of different injury contexts (Scott-Parker and Morang MacKay 2015). The addition of a third dimension to Haddon's Matrix by Runyan (1998) introduced value criteria to enhance the efficacy and effectiveness of injury prevention interventions. Runyan's (1998) suggested criteria included: (i) effectiveness; (ii) cost; (iii) freedom; (iv) equity; (v) stigmatization; (vi) preferences, and; (vii) feasibility.
Causal concepts in sports injury epidemiology
Contemporary models of sports injury aetiology have broadly visualised how a multitude of risk factors predispose and subsequently leave athletes susceptible to sustaining injury. These models have developed incrementally over time, being grounded in the broader causal concepts that have been outlined thus far.
Meeuwisse (
1994a
) was one of the first sports medicine researchers to discuss the importance of accurately assessing causation in sports injury research. In particular, two early articles outlined key principles relating to the assessment of risk factors, and elucidated why a multifactorial approach to understanding sports injury risk was needed (Meeuwisse
1994a
,
b
). Inspired by causal concepts in the disease literature, Meeuwisse (
1994a
) created his new multifactorial model of athletic injury aetiology. The model included the relationship between intrinsic (e.g. maturational stage, somatotype, biomechanics, conditioning) and extrinsic (e.g. weather, footwear, terrain, competitive rules) risk factors and sports injury. According to the model, any given athlete has a unique predisposition for injury based on their own intrinsic set of risk factors, and further external risk factors acting 'from outside' render the athlete susceptible to injury. The multifactorial model was revised just over a decade later, prompted in part by the presentation of a new operational cyclical model by Gissane et al. (
2001
), alongside later suggestions (Bahr and Holme
2003
; Bahr and Krosshaug
2005
). The updated model effectively advanced the initial linear paradigm of injury causality to a dynamic model in which a given athlete's susceptibility to injury could continually change according to many adaptations or maladaptations that occur with continued sports participation (Meeuwisse et al.
2007
) (Fig.
1
).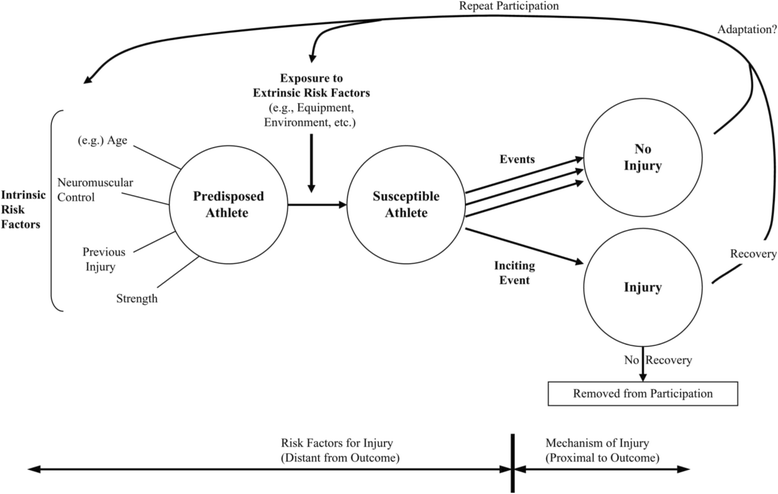 A biomechanical perspective on sports injury causality illustrated a number of considerations that added complexity to sports injury causality (McIntosh 2005). McIntosh (2005) drew upon his own research, and rationalised that the use of protective headgear might not affect sports injury risk, for better or worse, if that particular intervention were to modify the behaviour and attitudes of its user. The model visualised how personality, level of competitiveness and exposure to coaching practices interplay with environmental and biomechanical properties to influence injury risk. Ultimately, McIntosh (2005) explained how injury prevention programs might not work to their full capacity if physical loads are reduced through intervention, yet an increase in kinetic energy exchange and higher forces are encouraged through the actions and desires of coaches and athletes. Hagel and Meeuwisse (2004) similarly dedicated an earlier paper to the notion of risk compensation in the sports injury context. They argued that, despite the best intentions of researchers' to introduce sports injury countermeasures, interventions might not always have the desired effect. Their conclusion emphasised the importance of conducting injury prevention studies for determining whether countermeasures are efficacious through evaluating their net benefit (Hagel and Meeuwisse 2004).
Proposing a complementary research agenda for sports injury aetiological research
Existing sports injury prevention frameworks have been valuable for outlining and facilitating the overall research process. For instance, stage two associated with both the Sequence of Prevention model (van Mechelen et al. 1992) and the Translating Research into Injury Prevention Practice (TRIPP) framework (Finch 2006) specifies that the implementation and evaluation of injury prevention interventions cannot occur until risk factors and mechanisms of injury have been firmly established. Accordingly, aetiological research requires a multidisciplinary approach, including not only biomechanical and clinical studies, but also investigations with a focus on behavioural and motivational factors (Finch 2006). Despite this, very few original studies in the unintentional injury and sports injury literature have used behavioural and social science theories in order to facilitate the uptake and maintenance of injury prevention interventions (Trifiletti et al. 2005; McGlashan and Finch 2010). This is concerning given that injury research, whether focused on aetiology or prevention, has to occasionally reach above and beyond not only the biomedical and clinical sciences, but also the behavioural and motivational levels to truly make a difference (Allegrante et al. 2010). In other words, incorporating injury determinants as they relate to policy development and legislation are also crucial for prevention purposes, yet they too have only featured on a very limited basis in sports injury research.
In one of very few examples, Cameron et al. (1994) explained that before regulations specified that bicycle helmet use was mandatory, the overall uptake of this injury prevention intervention was less than adequate. If people do not know, appreciate, or consider that particular injury countermeasures are necessary for enhancing their personal safety, there will be little incentive to use them. Accordingly, to increase the effectiveness of an intervention to reduce severe eye injuries amongst squash players, Eime et al. (2005) collaborated with the Victorian Squash Federation, leading eyewear manufacturing companies and sports venue managers. This was alongside behavioural and motivational strategies to ensure both the uptake and efficacy of the program was successful (Eime et al. 2004).
More recently, Finch and Donaldson (2010) developed a novel extension to the RE-AIM (Reach; Effectiveness; Adoption; Implementation; Maintenance) framework, through the Sports Settings Matrix to identify the multiple levels of the sports delivery setting (e.g. national level through to a club, team and individual level that impact on injury prevention). The authors' stressed that the attitudes and knowledge towards injury prevention interventions need addressing, but equally, the setting, culture, and infrastructural support networks in which programs are to be delivered are also essential considerations for the success of initiatives. For injury prevention interventions to have the best chance of working, practice-based research that aims to measure the contextual determinants of program effectiveness is required to translate efficacy into effectiveness; but alone, this is not enough. Even prior to implementation, it is imperative to reconcile differing perceptions of injury causation (Hanson et al. 2012).
Conclusion
Reflecting back on the historical context in which causal concepts in epidemiology have been formulated is important for establishing scientific progress, and presents the opportunity to inform future perspectives. The journey from the theory of monocausality in the late Nineteenth century to multifactorialism in the modern scientific era is only the beginning. Bar a few exceptions to the general rule, the main focus of sports injury aetiological research to date has been on risk factor identification at the individual component cause level. Some have argued that the next step for sports injury research is to further embrace an ecological perspective that supplements the biomedical tradition – both in terms of aetiology and the implementation of injury prevention interventions. However, rapid developments in the broader field of public health and Applied Human Factors and Ergonomics, are fast moving beyond the socioecological era. In fact, recognition for the potential of systems thinking methodologies and analyses has already gained traction in other injury contexts. The advancement of sports injury prevention research will require that epidemiologists bring their knowledge and skillsets forwards in an attempt to use, adapt, and even refine existing systems-based approaches. Alongside the natural development of conventional scientific methodologies and analyses in sports injury research, moving forwards to a complementary systems paradigm is now required.
Abbreviations
ABM:

Agent Based Modelling
AHFE:

Applied Human Factors and Ergonomics
RE-AIM:

Reach, Effectiveness, Adoption, Implementation, Maintenance
Declarations
Acknowledgements
Dr Rasmus Nielsen, Professor Andrew McIntosh and Professor Paul Salmon provided feedback on sections in a draft version of this manuscript.
Open AccessThis article is distributed under the terms of the Creative Commons Attribution 4.0 International License (http://creativecommons.org/licenses/by/4.0/), which permits unrestricted use, distribution, and reproduction in any medium, provided you give appropriate credit to the original author(s) and the source, provide a link to the Creative Commons license, and indicate if changes were made.
Authors' Affiliations
(1)
Australian Centre for Research into Injury in Sports and its Prevention (ACRISP), Federation University Australia, Ballarat, Australia